Process to pay RCVFA Dues

Regular Members:
Normally, a dues notice is sent to each member in the June-July time frame each year to those who owe for the current year. Dues are due by the annual convention in September. Payment for dues can be made for a single year of $10, or for multiple years at one time by including $10 for each year you want to pay ahead. You can pay in any of three ways:

1) Attend an association monthly meeting, or the annual convention, and pay in person.

2) Send a check or money order to the Association's PO box address:

RCVFA
PO Box 16
Garnerville, NY 10923

Along with notification of any change to your department affiliation, mailing address, phone number or email address.

3) The Association added the ability to electronically pay your dues using Venmo. Anyone can set up their own Venmo account – there are no fees unless you link it to a credit card. For more details see www.venmo.com.

You can use the Venmo mobile application or login using a computer. Search for "@FinSecretary-RCVFA" when you are in the "pay or request" screen. You may then send $10 per year that you would like to pay. In the "What is it for" box, be sure to type in "Dues payment" and your name. Also please send us any updates to your information as noted above.

We would suggest you keep your payment private. Be sure to use the payment between friends, and not a Purchase. Then Simply click on "Pay".

Companies/Departments:
Organizations belonging to RCVFA have annual dues of $20, which includes eligibility for trophies at our annual convention/parade. Please return payment to RCVFA, as noted above. Venmo can be used by paying "@FinSecretary-RCVFA". In the "What is it for" box, be sure to type in "Company Dues" and Company name. Be sure to use the "payment between friends", and not a purchase.

This is the proposed meeting locations starting in October 2023 through September 2024. We are assuming you will continue to host as per this schedule unless you contact us no later than May 1.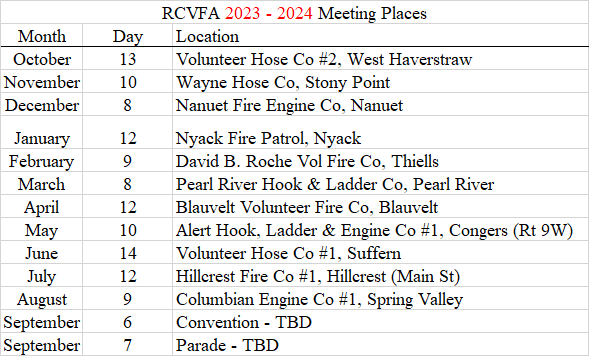 Questions concerning your membership records, dues payments or using Venmo can be directed to the Financial Secretary at finsecr.rcvfa@gmail.com